The upcoming hindi fiction film Tarpan got screened at LIFFT India Filmotsav and Cine Fest 2018 on 10th December ,2018. Tarpan is the debut directorial project of Neelam  R Singh.The event by attended by Neelam R Singh along with her daughter.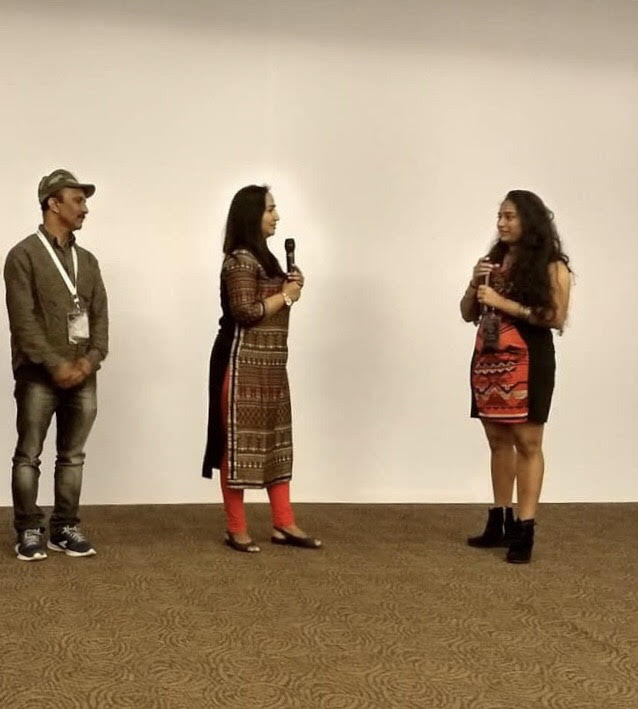 Tarpan is a social drama , schedule to release on February 2019.
The word 'TARPAN' is derived from the root word 'Trupt' meaning to satisfy others. Tarpan literally means offering water to God.  
Tarpan deals with the sensitive subject of caste discrimination and sacrifice. A young girl Rajpatiya of lower caste is molested by a Brahmin, upper-caste boy Chander. The issue quickly gets political mileage and predictably, Chander gets bail and other benefits that accompany lack of witness in the case. The girl's brother, in the process of saving the life of local politician, hits Chander. He is convinced by the local politician to slice off the nose of the boy which will be an ultimate  revenge. Girl's brother got provoked and slices off the nose of Chander but the girl's father claims responsibility and accepts the blame of slicing off the nose of the accused. It's a significant event where a Dalit has taken classic revenge. Though the father pretends that he is saving his son. He actually chases the glory of getting his name mentioned in the newspapers and being the pioneer who engineered the plot to slice off the nose of the accused and successfully executed it.
The father claims that it is his Tarpan, his offering to his previous generations who have suffered for no fault of theirs.
The film is produced by Mimesis media , presented by I
ndervesh Yogee. Directed by Neelam R singh Tarpan is written by Shivmurtri. The music is given by Manoj Nayan and lyrics by Rakesh Nirala.The shoot of the film had been completed at Raipur village,Uttar Pradesh. The film is starring Nand kishore Pant ,Sanjay Kumar,Arun Shekhar,Rahul Chauhan,Poonam Ingle, Nilam Kumari,Vandana Asthana,, , Padamja Rai, and Lalit Jogi.
Neelam R Singh quoted its huge that my debut directional film got screened at LIFFT.As a debut director I learnt alot of things and the cast and crew had also supported  enough. Shivmurti has written a beautiful story for which I am able to get perfect expression and emotions from the cast to portray it on the screen.Tarpan is a social drama which is high  in emotions and to depict the story through expression is quite challenging.
I am really looking forward for its release in the theatre  and hope audience will like and appreciate my work.