By: G.P. Sinha, Editor-ICN Group
LUCKNOW: The 18th annual conference of All India Cosmetologist and Beauticians Association was held at Hilton Garden Inn Lucknow. In this conference a galaxy of eminent experts of Health and Beauticians from India and abroad participated on Sunday the 12th Jan 2020.The purpose of this conference was to bring out the inner and outer beauty of mankind.
On this occasion around 250 eminent specialist doctors were present.These included Plastic Surgeons, Beauticians and fitness experts from all over the globe.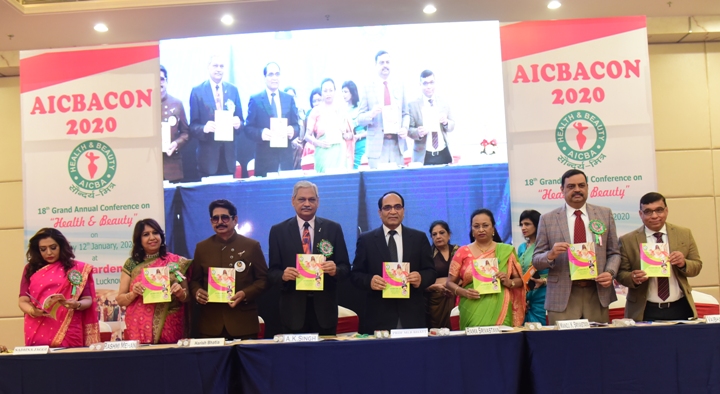 The inauguration of the meet was done by lightning of lamp by the honourable chief guest Prof. (Dr.) M.L.B. Bhatt the Vice Chancellor  of KGMU Lucknow.In his inaugural address Dr. Bhatt said that AICBA is the only International body which is giving  new dimensions to the health and beauty to the society. He further said that there is need of many more such institutions.
The Conference was graced by Prof Shruti Sadolikar VC Bhat Khande, Kumar Keshav MD, Metro Corporation, Prof. A.K. Singh, Prof. Ashok Chandra, Prof. S.D. Pandey, Dr. Narendra Agarwal CMO Lucknow, Dr. Manoj Asthana, Dr. Muzammil Khan, Dr. Rukhsana Khan and many more.
Dr. Sandeep Ahuja one of the eminent fitness and beauty expert emphasized that to reduced weight one has to restrict the consumption of wheat and rice at night and consume more of like carrots salads and pulses and avoid taking junk food like chips and cold drinks.Further he adviced to do regular exercise in order to burn calories.
On this occasion Dr.Disha Jaggi said that Micro Needling can be the best way to reduce the Mark's of pimples. Dr. Sunita Chandra informed that how the infertility be checked and cured.
Dr. Saket Sinha from Chicago USA emphasized on how to improve the health care for senior citizens. Dr.Manoj Shrivastava Sr. Physician chaired the panel discussion on Beauty and Cosmetic surgery. In this discussion  the participants were Professor A.K.Singh, Dr.Adarsh Kumar, Dr.Vaibhav Khanna ,Dr.Ali Atif, Dr.Harshvardhan Sinha and Dr. Disha Jaggi.
A famous Artist and make up man Mr. Amod Doshi from Mumbai informed that how he is doing makeup of film stars according to their character and role. He demonstrated  how he has changed the 30 year Sandip Ahuja to a 70 yr old man . It was amazing.
Dr.Blossam Kocher presented her work on how to take care of your hair.Beautician Salve Patil from Mumbai gave live demonstration for make up of bride.
Dr.Poonam Mishra conducted  the discussion on Antiaging  process in beauty parlour.  In this session  Sadhana Jaggi ,Rashmi Mehan,Dipika Chaudhary,and Sadhna Bhagya took active  part.
In this conference Dr. Ashok Chandra, Kumar Keshav, Dr.Priti Kumar,hair expert Asif Sulemani and Amita Siddiqui were honoured for their contribution in their respective fields.
Dr.Rama Srivastava and Dr.Sanjay Arora presented the video  of the forthcoming  7th international conference to be held on Kuala Lumpur on 5th April 2020.
Like every year finally the AICAB king and queen Contest was held in which Dr Beena Tondon 65 yrs became the Queen . Whereas the first runner up was Bindia Rastogi and second runner up was Pratibha Mishra.