By : Varapon Suthipheat , Consulting Editor ICN International & Paradee Patummapattananont, Executive Editor ICN International
Thailand : "Sufficiency economy" is a philosophy that His Majesty the King has given a royal guidance. Has been living for Thai people for more than 25 years since before the economic crisis, and after emphasizing solutions to survive and to live stable and sustainable under the current trend Globalization and change are considered in accordance with the definition. Sufficiency must consist of 3 characteristics at the same time as follows:
Modesty means moderation that is not small and not excessive by not hurting oneself and others, such as production and consumption at a moderate level
Rationality means making decisions about the level of sufficiency that must be rational. By considering the relevant factors as well as taking into account the expected results of such actions carefully
Having a strong immune system means preparing for the effects And various changes that will occur, taking into account the possibility of various situations that are expected to occur in the near and far future
The introduction of the philosophy of the sufficiency economy Integrated and applied to daily life according to principles Sufficiency agriculture and new theory agriculture About fish farming

Principles of general fish farming
Farming type
– Fish raising in earthen ponds
– Fish farming in Cement ponds
– Raising fish in floating baskets
– Fish farming in rice fields
The most suitable type of fish farming nowadays is fish farming. Is a use From as much space as possible Able to use each other as appropriate For this article, brought knowledge about raising fish in earthen ponds. For the benefit of the readers
Raising fish in earthen ponds
1) Location of pond construction = near water source, soil is clay HM sticky sandy, near the
Source market Raw materials, food, etc.
2) Pond preparation = over-drowning / pest removal / slime removal / manure application
(Lime = 150 kg./rai + manure = 250-300 kg./rai)
3) Water preparation = Water filter to protect the larvae Eggs or other fish enemies. Water level 1.5-1.8 Suitable water feature meter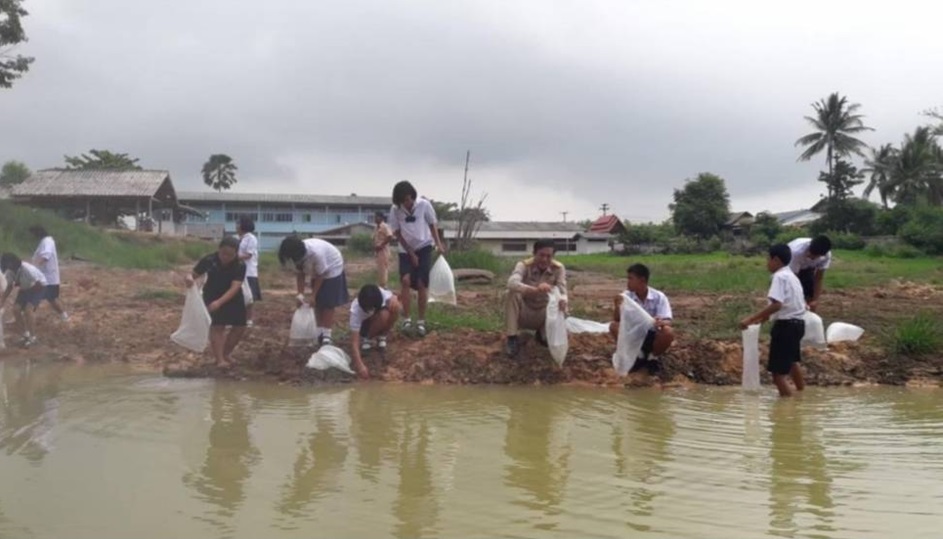 4) Fish stocking
= Fish species selection as appropriate Of various conditions, source of raw materials Market, expertise, etc.
= Discharge rate should not be dense
= 3,000-5,000 per / rai (herbivorous fish)
The release rate will have an impact on Management, growth, opportunity that should be in return instead of receiving etc.
5) Management = Consideration of production costs with production planning – feeding
Appropriate as fish needs. – Supplementary food to reduce costs. – Use of fish ponds to add value. Such as raising periwinkle together, etc. Value-added processing by own aquatic animals – a combination of raising fish with other plants and animals such as pigs, chickens, ducks, etc.
For the next article, integrated fish farming will be used as knowledge for the benefit of readers.