By: Anoop Sood
SHIMLA: Yearning for a sojourn in hills hits you once you sense that the liberation from boot camp- the corporate job- is just round the corner. Four decades in a corporate job is a long period, almost a lifetime. It is about to end and with it a part of life will get over.  You have two options- take up another assignment to put your experience to good use and prepare to die with your boots on or find a sojourn in the place you always wanted to be, missed and dreamed of, to attain the ultimate salvation.
In today's corporate scene the minions take pride in dying with their boots on. But for me it is time to return to the roots to the place of ultimate salvation, Simla or Shimla as it is called now. It means a home, childhood, adolescence, innocence and a whole lot off past and present relationships.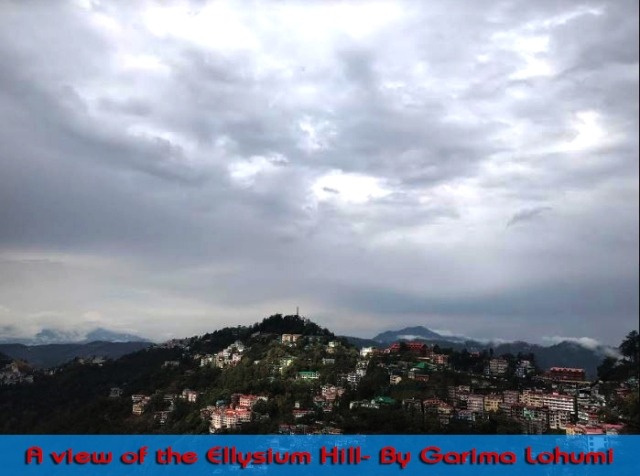 After 45 years of what people of my generation remember of Shimla is its culture of leisurely life style, dressing up for a stroll on the Mall, beautiful girls and fashionable women, whole lot of philosophical discussions in the famous South Indian Coffee House or one of the many elite restaurants over a cup of coffee or tea. They remain the same to an extent and it is still a place to live in.
The British era hill station stood out for its cleanliness. As a child I have seen the Mall being washed each morning. But that was when Simla had about 30000 residents. Today the resources seem stretched to breaking point with local population boom and endless tourists driving up the hills for some fun.
My mother used to tell me you are welcome but don't come in summers. There is no water, no parking space and roads are choked with vehicles.  The crisis seems to be multiplying with frequent scare of jaundice thrown in.
The city has lost much of its greenery. One look from the Mall towards Mount Jakhoo, the highest peak of the city, breaks your heart. The lush green forest of deodars, oaks and rhododendrons has been transformed into a veritable concrete jungle.
The walk from Ridge to St Bedes College including the Lovers Lane had a mysterious halo with stories of doomed lovers or besotted youngsters. Today unfortunately it's just a motor way. The noise emanating from loud speakers blaring Bollywood songs on Ridge is another nuisance that hast stripped the hill station of its serenity.
Today's Shimla is much different from my Simla but I still love it. Despite all the undesirable changes it gives you great opportunities to trek and explore. Pleasantly surprised to see some walks in simla are being restored and made popular. But there are not many takers at present.
A walk down to the Annandale through the forest, around Potters Hill or to Chadwick Falls  or ,for the adventurous, a climb up to the 9250 ft Shaili Tiba is great fun.
However, the best walk is to Water Reservoir in Wildlife Sanctuary below the Wildflower Hall. You can also ride a bicycle there. Catchment area, as it is called, is one great deodar forest which is like a carpet and seems preserved just the way it was, a well preserved British heritage. It is rich in wildlife, of course, with the threat of ominous leopard looming large all the time.
Snow fall attracts us most. It used to snow from November onwards regularly till February end. It seems a distant dream now and all we witness these days is one or two moderate falls, that too if you are lucky, otherwise snowless winters becoming the new norm.
Simla Ice Skating Rink is another victim of changing weather pattern. Nowadays, very few sessions are possible Can't believe there is a bus stand next to it and the cluster of trees on the hill side that provided shade to the rink from sunrays has gone. This is butchery of tour heritage. Hope better sense prevails and Rink is restored as it was.
On the positive side, youngsters today are much smarter, better informed and aware of world with some novel career choices in music and tourism. We were duds looking for elusive government jobs as there were hardly any other avenues for employment
Music scene looks great with bands and jamming going on regularly even on the Ridge with tourists also getting opportunity to display their singing talent accompanied by local musicians.It is heartening to see mountain biking getting popular, it must be popularised to be new 'must do' for them.
During our school and college days we used to play a lot  cricket but it is no longer possible for the youngsters now as hardly any play grounds are left in the city now.
City itself, like any other city, has transformed. But it's still more or less the same if you walk from my home in Chhota Shimla and up to Indian Institute of Advanced Study. This part is beautiful but one needs to walk. Unfortunately today walking doesn't seem to be the 'in' thing. Everyone is looking for a drive-in home and everyone has at least one car if not more.
Some parts are really a scary – multi-storied residential buildings in Sanjauli, Kachighati and Dhalli-look like hanging gardens. Built on precipitous and ecologically fragile hills in a seismic zone, these structures are downright dangerous.
The city seems to be spreading out to nearby villages and in the 'Khads'. The hills are being indiscriminately cut almost vertically for buildings and roads. Only daredevil drivers can take the cars home. God knows if cars are meant to take the owners home or vice- versa. With no parking space in residential buildings vehicles are parked on roads. It's birthright of residents even if a paid parking available next door is vacant.
Cars and mini buses running on sealed and restricted roads so frequently that you wonder if it's now free for all and Shimla is being gradually made to forego its motor free status. Pray no one gets this bright idea in the name of providing facility for senior citizens.
Hordes of tourists are turning Shimla into an overcrowded slum. The greed of hotel industry and tourism operators, bringing crowds of uncouth people in the name of tourism is likely to worsen the local residents' life in years to come.
Healthcare is another major worry. The Government has done well to set up nice medical college with dedicated health professionals but it  seems inadequate compared to the needs of burgeoning population which is the root cause most of the problems being faced in the major cities of India. There are just far too many people and the impact is felt all the more as hills have limited carrying capacity. The premier hill station is bursting at the seams and with authorities not keen on curbing unauthorized constructions the situation is worsening progressively. No surprise the city is struggling, though it still seems to have done better than most.  It's still the place to be in.
Anoop Sood is former President of a Pharma Company.He is a voracious reader and a keen traveler.
Email: amaranoopp@gmail.com