By: Abhinav Malhotra
Insights to BRI, Manufacturing sector of China and positioning of Vietnam with India
"All men can see these tactics whereby I conquer, but what none can see is the strategy out of which the Victory is evolved."
-Sun Tzu
These words by Sun Tzu, a Chinese Military strategist, have never held more relevance than they do now. In this precise article let us just ponder on a few relevant points as to how and why China is growing into a world superpower and how does it affect the common man.
BRI
One Belt One Road now renamed to Belt and Road Initiative can be understood as "Belt" referring to overland routes including road and railways while "Road" refers to the Sea routes. (Project estimate $ 4-8 trillion)
The Belt and Road Initiative can be understood as:
Economic Belt
New Eurasian Land Bridge Economic Corridor
China-Mongolia-Russia Economic Corridor
China-Central Asia-West Asia Economic Corridor
China-Indochina Peninsula Economic Corridor
Bangladesh-China-India-Myanmar Economic Corridor
China-Pakistan Economic Corridor
Maritime Silk Road
It Connects China to Southeast Asia, Indonesia, India, Arabian Peninsula, Somalia, and Europe through the water route.
Xi Jinping, the President of the People's Republic of China formulated this project in 2013 stating that the focus is to strengthen regional connectivity and create an infrastructure to nurture and tap unexplored/underutilized economic zones. The aim has been to accelerate infrastructure investment, education, railway and highway, automobile, real estate, power grid, iron, and steel but it is believed by some analysts to be a way to extend Chinese influence.
Impact
According to estimates, the Belt and Road Initiative covers more than 68 countries The entire project today affects more than 60% of the world's population and approximately 35% of the global economy.
Analysis
Over-dependence on China as a buyer of commodities is a legitimate risk. Turkmenistan is feeling the heat as China has been the sole foreign importer of Turkmen gas since Russia halted gas imports from Turkmenistan in 2016.
 Many Countries in the BRI are economically backward. Considering their financial health and other economic indicators it seems unlikely that they will ever be able to repay China for the sum invested in their countries.
Prime examples:
Sri Lanka – China Loaned $ 1.5 billion for a deep water port and Sri Lanka couldn't repay. The net result was that China gained Control over the port in a 99-year lease.
Pakistan – China has a similar agreement for 40 years for a port in Gwadar located in the province of Baluchistan.
Djibouti – A former French colony strategically located at the Red Sea hosts a Chinese Military Base. China loaned $ 580 Million to build a deepwater port in Djibouti, which is now in complete control of the former. According to estimates, as on date, Djibouti is in debt to China to the tune of roughly 70 % of its GDP.
We may not be able to conclude as to the real motive of the BRI, but strategic goals surely seem to supersede the economic ones.
Manufacturing
Napolean rightly quoted – "China is a sleeping giant. Let her sleep for when she wakes she will move the world".
THE DRAGONS RISE CAN BE DIVIDED INTO 3 PARTS
The Following Points highlight some major reasons why China dominates the globe in manufacturing: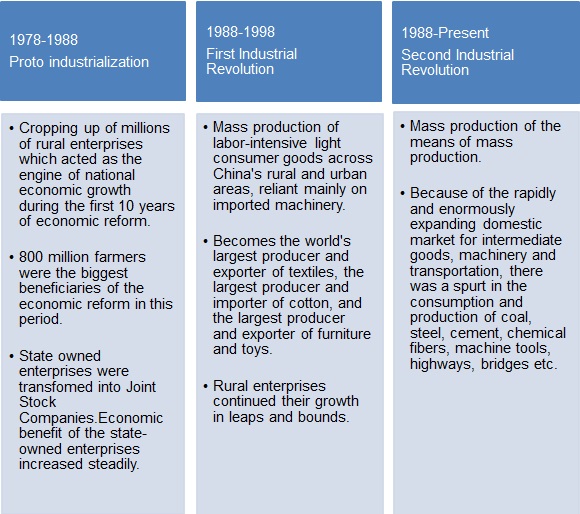 The abundance of lower-wage workers as compared to developed countries.
Lower Tax Rates and exemptions.
Less of Red-Tapism and Restrictions imposed by the government.
Offering prebuilt factories to foreign players at reduced costs.
Strong Transport Network- Convenient Shipping Methods.
Impact
The increasing dependence of India on China
The Below Mentioned Table represents the percentage of goods imported from China in that particular sector.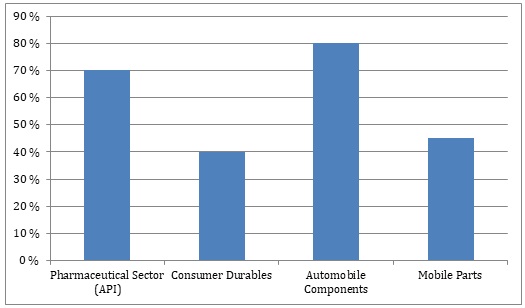 Analysis
This humungous dependency on China will cost India a huge amount in the near future. For example, as mentioned in the chart, 70% Active Pharmaceutical Ingredient is currently sourced from China. A sudden reduction/blockage may lead to inflated prices and a shortage of essential drugs in the market.
Hence China is pursuing win-win development strategies. All this is being done through global business engagement and international infrastructure build-up regardless of religion, culture, political system, and the national boundary.
This brings us to a point that China is now termed as "The Factory of the World"
The Vietnamese Angle
The growing influence of China on the global trade scenario holds substantial relevance for a country like India. During the time of Pandemic caused due to the Novel Corona virus, many Companies planned to shift their production units out of China. General sentiment went with India. Experts claimed that India will be one plausible option considering its democratic polity and open market. But Vietnam proved to be the Dark Horse.
Japanese investment bank Nomura estimates that Vietnam's economy enjoyed an 8 % boost in 2019. It emerged as a strong contender to grab a big share in the post COVID-19 era.
The following points reflect the steps taken by Vietnam and why it is definitely a lucrative option for the world of Business.
Upscaling it medical equipment production and making related donations to countries like Italy Japan Russia and Spain, Vietnam rolled some eyeballs.
Signed preferential Trade Pacts with the USA and countries in Asia and Europe painting its image as a viable option to transact with.
In handling the Corona Virus, Vietnam did a great job. 327 cases were reported with no fatalities (as on 10th July 2020).
Vietnam improved access to credit information by distributing data from retailers and made paying taxes easier by upgrading the information technology infrastructure used by the General Department of Taxation.
In Ease of doing business, India ranks at 63 while inching closer, Vietnam ranks 70.
Below mentioned Chart states the ranks of India and Vietnam on indicators in Ease of doing Business
Impact
Nomura observed that 56 companies moved its bases from China in 2018-19, Vietnam got 26 of them, Taiwan got 11, Thailand 8, and India got only 3.
Analysis
Heavy taxation and legal Hurdles are becoming a major issue for Business in India as per the above-mentioned rankings. While religious and political tensions have hurt the functioning of the economy in various instances, the lack of strong opposition in the country is one major reason why we don't have constructive criticism of various policies.
My Take on the Situation
Concluding the Impact and Analysis of BRI, Manufacturing, and the emergence of Vietnam as a favorable business destination, one thinks as to Why India is not able to cope up with its peers.
The argument can take various forms but a pragmatic approach is a solution. The ruling party of India i.e. BJP led by Prime Minister Narendra Modi rules the majority of the states and Union Territories. Passing resolutions and making amendments for boosting the economy is completely for the right-wing party, so long as the intent is clear. Reduction in red-tapism, control over corrupt deals, less favoritism and focus on skill-based education can be the answer. Bridging the gap between the Rich and the Poor is also possible only if we train and educate the masses to be job-ready and not just squander with meaningless degrees and diplomas.
COVID-19 has been a learning lesson for many. India need not cajole any nation to counter the Dragons attacks. Rather the rumpus created by the Chinese can be silenced by smart and strategic moves initiated by the ruling party. As rhetoric to boycott Chinese products grows, we need to first understand that it is not a cakewalk to stop transacting with the neighbor. The Goal of becoming Aatmnirbhar (Self-reliant) and reducing our dependence on China is absolutely legitimate but for that, we still have a long way to go.
References:
https://www.brainyquote.com/topics/conquer-quotes
https://voicesoncentralasia.org/chinas-belt-and-road-initiative-and-its-impact-in-central-asia/
https://en.wikipedia.org/wiki/Belt_and_Road_Initiative
https://www.beltroad-initiative.com/belt-and-road/
https://www.stlouisfed.org/publications/regional-economist/april-2016/chinas-rapid-rise-from-backward-agrarian-society-to-industrial-powerhouse-in-just-35-years
https://www.investopedia.com/articles/investing/102214/why-china-worlds-factory.asp
https://blacksmithint.com/how-did-china-become-the-worlds-factory/
https://www.thehindu.com/data/data-is-an-economic-boycott-of-china-feasible-for-india/article31903776.ece
https://www.sourcify.com/everything-you-need-to-know-about-manufacturing-in-china/
https://www.cnbctv18.com/business/why-vietnam-is-emerging-as-a-favoured-manufacturing-hub-in-the-post-covid-19-world-5783291.htm
https://www.doingbusiness.org/en/rankings
https://www.indiatoday.in/business/story/covid-spillover-firms-shifting-from-china-to-vietnam-has-lesson-for-india-1687344-2020-06-10
Disclaimer: This article contains information gathered from various sources as mentioned above. This article has been penned for informative purposes, with no intention of provocation. The author does not accept liability for any errors, omissions, or damage resulting from the use of this article or facts therein.