SHIMLA: The 5th International Film Festival of Shimla ends with screening of 20 national, international and regional films and music videos. Chief Secretary Govt. of Himachal, and chief guest of the 5th International Film Festival of Shimla, Sh. Sreekant Baldi, concluded the closing ceremony with prize distribution. Documentaries including, Glide Bir Billing by Novita Singh from Bir, Himachal Pradesh, The hope of tomorrow by Gul Reyaz from J&K, The Birth of a Life by Bizoy Mahmud from Bangladesh, The Divine Get-Together by Gitesh Gupta from Shimla, Budhi Diwali by Mela Ram Sharma from Shimla and Alone in The Combat Zone by Monjul Baruah from Assam were screened.
Short films including Aapke Aa Jane se by Shailaditya Bora from Mumbai, The Phish Tale by Shefali Singh Bora from Mumbai, and Fucking Cola by Sophie Van De Pol from Netherlands were screened.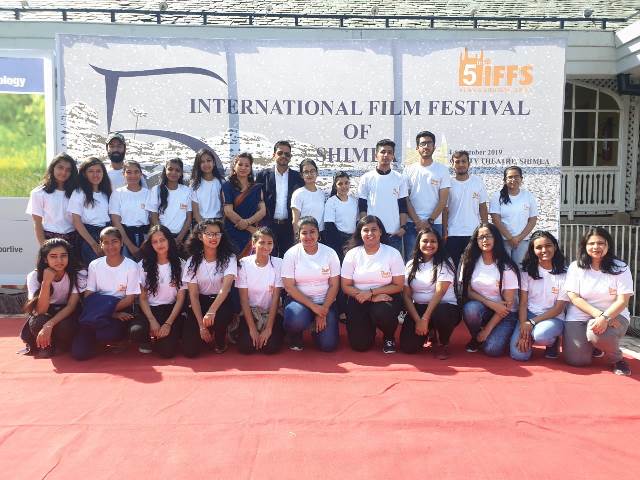 Music videos including Yaad Aave by Abhishek from Himachal Pradesh, Mei are chhor hu by Ashutosh Singh from Himachal and Humro Ke Ghar Pahunchai De by Abhishek Arun from Bihar were screened. 1 (One) an animation film by Ketan Pal from Uttrakhand was also screened.
Total 20 films were screened during the third day of the film festival including animated films, short films, documentaries, music videos and international films from countries like Poland, Australia, United Kingdom, France, Iran, Bangladesh, Cyprus and Israel.
There was an open forum in which the film directors interacted with the audience and shared their experience of film making. They also talked about the importance of film festivals and how it helps and motivates the film makers to share their work among the cinema lovers. Followed by the interactive session was question answers session where audience asked various questions related to film making and film direction.
Results:
INTERNATIONAL
Category- Documentary
1. Best Documentary
Film: Burkinabe Bounty
Director: Iara Lee
Country: West Africa, USA
2. Special Jury: Documentary
Film: Dance of Joy
Director: Christine Booth
Country: United Kingdom
Category- Short Film
Best Short Film
Film: Are you a Volleyball
Director: Mohammad Bakhshi
Country: Iran
2. Special Jury: Short Film
Film: In the Mud
Director: Dominic Yeh
Country: China
NATIONAL
Category- Documentary
1. Best Documentary
Film: Gyamo- Queen of The Mountain,
Director: Doel Trivedi & Gautam Pandey
From: Delhi
Best Documentary
Film: Chiaroscuro
Director: Parthajit Baruah
from: Assam
3. Special Jury: Documentary
Film: Rockumentary
Director: Abhimanyu Kukreja
From: Bhopal, Madhya Pradesh
Category- Short Film
Best Short Film
Film: Pamphlet
Director: Shekhar Bapu Rankhambe
From: Mumbai, Maharashtra
2. Special Jury: Short Film
Film: Dream One – Gurwinder
Director: Mayaram
From: Mumbai
3. Special Jury: Short Film
Film: Meal
Director: Abhiroop Basu
From: Kolkata, West Bengal
STATE
Best Film: Glide- Bir Billing
Type: Documentary
Director: Ms. Novita