By: Anoop Sood
PUNE: Pune is one of the better cities where I live and spent the best part of my professional career. Over the years I have come to admire the place and for good reasons.Nice comfortable weather round the year, safe, better infrastructure, good avenues for employment, excellent education institutions, hordes of places offering good entertainment and exciting night life- Pune has it all.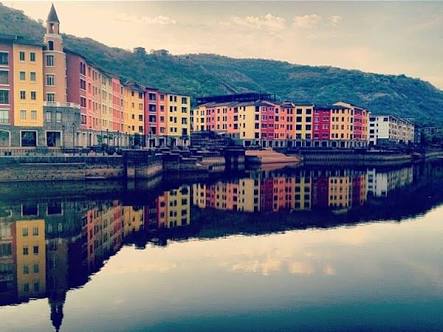 But the best part of living in Pune is that you can be trekking amidst picturesque green hills or wandering leisurely along the coastline on best of the beaches in no time. Exciting places are all around you and most can reached in less than an hour.
In recent years one of my favourite places has been the new township of Lavasa. Located on the cusp of green hills, hardly 60 km away, the town has amazing settings. The drive from Pune, especially during rains, gives you a feeling of being close to heaven. Verdant valley, Temghar dam and finally an uphill climb through the mist – It's an experience to be cherished.
Lavasa has been planned and designed on the lines of small European townships and I feel a lot of it has been inspired and based on architecture of Italian town Portofino. Many streets bear similar names. It is also surrounded by hills, has a waterfront on artificially created canal, hotels, open air restaurants and a promenade not very different from Innsbruck. Upscale hotels, famous restaurants, management institutes, reputed schools, all have made Lavasa their home. The cream of society from Mumbai, Pune and from cities far and wide had decided to invest and make Lavasa their second home, if not their home. It was a dream of a lot of well to do families to settle at Lavasa the place has that charm.
Lavasa was a part of the project envisaged to develop five new world class cities in this part of country with private investment,. Each city was to have modern infrastructure to cater to a population of 40,000 to 50.000 inhabitants.
Lavasa is a self administered town, with the affairs being run by professionals. And efficiently run by them.
It was boom period for Lavasa from 2006 onward for about fIve years when thousands people invested in homes costing from Rs 50 lakh to Rs 4 crore and even more. A number of high-end hotels, restaurants and educational institutions came up. Many people, mostly the retired elderly lot, moved in from various cities to have a comfortable life here. A senior citizen home was also set up.
All seemed to be going well. A large number of tourists from Pune, Mumbai Nasik and other places thronged the nascent town on weekends and holidays to enjoy a leisurely drive, have a feel of the relaxed and comfortable ambience of lavish open air restaurants, try a hand at water sports or laze around the waterfront.
Life in Lavasa was good. And then things started to go wrong. Environment groups opposed to the  creation of city itself, raised various issues and pointed out that requisite permission had not been obtained for the project. Locals were also up in arms demanding better compensation for land besides jobs. Legal battles ensued and the courts asked all construction to stop. Work on thousands of under construction houses came to a grinding halt overnight. Thousands of people who had made investments faced uncertainty. Gradually owners of hotels, restaurants, shop owners and other business establishments too started feeling the pinch and a majority of them closed down or scaled-down their business.
Today Lavasa is a sad story. It wears a deserted look with hardly any inhabitants. The ones who had moved in lament the lack of facilities. The administration does what it can with meagre resources but the downslide continues with everyone around lacking interest. Everything seems to be rusting- abandoned shops and half built structures standout and the waterfront is no longer the centre of attraction. It breaks your heart to see the canal without water, and instead, filled with mud and virtually serving as a breeding ground for mosquitoes. And this is the waterfront which was to rival Innsbruck in Austria- even the Colour of buildings on waterfront had been copied from there.
I am neither competent to comment nor really aware of what went wrong. As a lay person all I know is that India has to develop many new cities to meet the needs of its burgeoning population. The existing ones are bursting at their seams and turning into living hell for the citizens with woefully inadequate infrastructure and poor governance. Every environment law is flouted with impunity. Why only in the case of Lavasa everything has been brought to a grinding halt. This is not a good advertisement for development towns with private investments.
A good initiative has been brought to a dead stop. Someone needs to take a step to sort out the issues and see if the things can be put back on track. It was a good place and a lot of people who have invested their hard earned money will be delighted if Lavasa development can be restarted even now.
Anoop Sood is former President of a Pharma Company. He is a voracious reader and a keen traveller.
Email: amaranoopp@gmail.com