By: Mohd. Tauseef, Deputy Bureau Chief, ICN-U.P.
LUCKNOW: Everybody is the expert of his own field but he needs much more from the other fields also for making the life meaningful, energetic having passion and making the survival easy. Having the same view, ICN organized a workshop in association with 'Nirvan Hospital' at Kalyanpur, Ring Road, Lucknow under its series of valuable workshops for life. 
Dr. (Prof.) Sandeep Sahu, Anesthesia Department, SGPGI, Lucknow conducted his workshop on the topic "Save a life by stop the bleed". He said that on account of the accidents, mostly the injured loses his life due to excessive bleeding and it is necessary that even a common man should know the technique to stop the excessive bleeding by putting pressure on the wound or by putting packs where the wound is deep. He also said that it is necessary that the emergency system of the hospitals be upgraded so that the injured may have necessary first aid immediately and the life may be saved.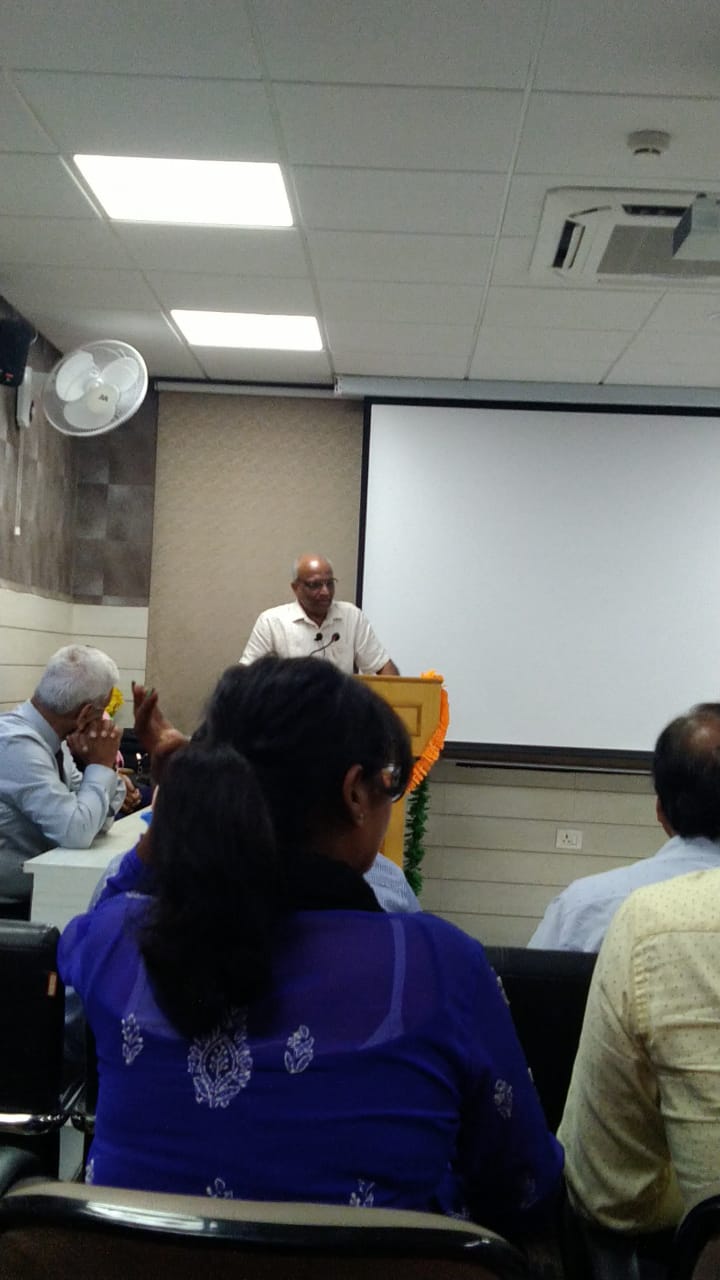 Prof. Jaswant Singh, a prominent scientist having vast experience of scientific expeditions at Antarctica and Arctic region told through his wonderful workshop under the title "My life and survival at poles" as to how the things, climate and life are different on both the poles from the other regions of the world. He said that both the poles have greater radiations, ice and speedy winds making the life just to impossible but still some of the creatures like polar bears, penguin and some other species are able to survive there. He further said that when all of the vegetations of the world are unable to be grow there, some special plants are available there and this is the subject of the research as to how these plants are living there in most contrary circumstances to life. 
Mr. Gourvendra Pratap Sinha, a skilled manager and known speakers on the art of life, lastly delivered his wonderful presentation under the title "Passion for Work and Life" and filled audience with unique enthusiasm by saying that everyone must take the current day of his life as the first day of the rest of his life. 
The occasion was presided by Dr. H.K. Agarwal, the Chairman & Managing Director of "Nirvan Hospital" and the event was anchored by Dr. Shazia Israr, the Associate Editor of ICN International.
In the beginning of the event, the representatives of Nirvan Hospital and ICN Digital Media honored the aforesaid speakers, Tarun Prakash Srivastava, Senior Executive Editor, ICN, Prof. Awadh Ram, Sr. Consulting Editor, ICN, Dr. Shah Ayaz Siddiqui, Editor-in-Chief ICN, Dr. Deeptanshu Agarwal, Director Nirvan and Dr. Pranjal Agarwal, Director Nirvan cum Associate Editor ICN by gifting Tulsi Plants and Mementos.
On this occasion, Dr. Upsham Goel, Chief Consulting Editor, ICN, Rajiv Kumar Saxena, Executive Editor International, ICN, Dr. Rukhsana Khan, President of IMA, U.P.- Women wing, Dr. P.K. Gupta, Ex-President IMA, Lucknow, Dr. Rama Srivastava,Elected President, IMA, Lucknow, Prof. J.D. Rawat, Secretary IMA, Lucknow, Dr. Manoj Asthana ,CTVS Surgeon, Prof. Vivek Govila, Prof. Smita Govila, Dr. Vikram Ahuja, Amitabh Dixit, Editor ICN, Dr. Shah Nawaz Siddiqui, Executive Editor ICN, Satyendra Kumar Singh, Editor, ICN U.P.,  Akhil Kumar Srivastava, Bureau Chief U.P., ICN, Dr. Warija Seth, Senior Associate Editor, ICN, Kauser Khan, Sr. Associate Editor, ICN, Amresh Kumar Singh, Asstt. Editor, ICN, Dr. Pankaj Yadav, Asstt. Editor ICN, Dr. Mohd. Salman Murtaza, Asstt. Editor ICN Sports and many reputed personalities of the city witnessed the event and enjoyed it.